Crear, gestionar y compartir la información de los procesos
Centralize and govern process knowledge for operational efficiency
Components Leveraged:

iGrafx helps organizations be more productive in developing, documenting, communicating, and managing business process information. Through its web-based platform, iGrafx stores and manages processes and all related information as reusable knowledge to accelerate projects and provide process transparency and understanding.
Get the right process knowledge into the right hands
Always see current information and control who sees what.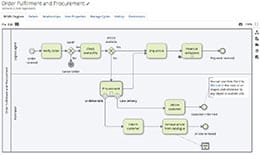 Web-based visual transparency with optimized performance and flexible access.
Information available to a wide audience with no need for a separate viewer or publishing step.
Keep sensitive data private by restricting access by individual or group.
Manage and govern change and see version history
Know your history and easily see the who, why and what of the changes to your processes and use Life-Cycle Management to deploy updates to your audience effortlessly.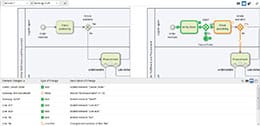 Automatically create and easily find historical process documentation and eliminate arcane naming conventions to keep prior versions.
Compare current to historical versions to understand exactly what has changed.
Store drafts not to be seen elsewhere, or send them out for review where collaborators can annotate right in the document for ease of refinement.
Use an approval cycle to automatically publish to your audience and use the endorse capability to verify that the people dependent upon the process know that changes have occurred.
Tie roles and responsibilities to key process content
Model your organizational structure to design your documents, assign responsibility and view what you own.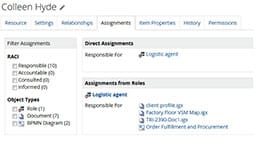 Easily see documents you care about in your personalized portal as a user or through the role you perform.
Maintain and leverage a library of organizations or roles to use as Swimlanes.
Documents seamlessly update if organizational name changes occur.
Reduce errors and rework reusing key information
Easily keep links and references inside your process documents up-to-date and stay on the same page with a clearly defined and common language.

Freely move files around in your repository without breaking any references to them.
Centralize URL references outside of the repository for ease of maintenance if something external changes.
Capture common terms and reference them in process documentation to enable effective communication and understanding.
Uncover process and information gaps via search and reporting
Easily see the unique aspects of the state of your process documentation previously unseen to understand ownership and impact, and to identify and address gaps across multiple dimensions.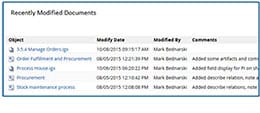 Know which documents are undergoing change, where they are in the lifecycle and who is responsible.
Easily filter document lists based on key property values like date created or approval expiration.
Ensure consistent capture of key properties as documents are created and modified.
Find out more about our Collaborative Process Management Solutions
Get Started