Monitor your company's performance and operational effectiveness
Components Leveraged: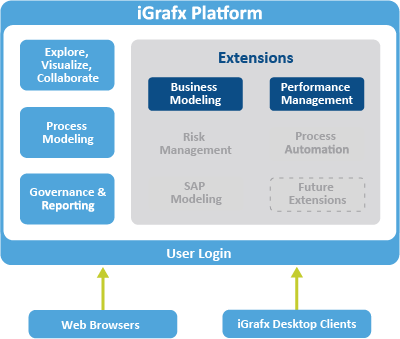 iGrafx Business Performance Management gives you a real-time window into your company's process behavior and operational effectiveness, so your organization can react with speed and effectiveness to deliver optimum performance. By dynamically charting the right performance metrics at the right time, iGrafx provides quick visibility into performance issues. Transparency is increased as strategic, tactical and operational measurements are communicated through graphical dashboards and scorecards to the people that need them.
Measure your performance against strategy
Increase your knowledge of what impacts corporate performance and what operational changes are needed to improve.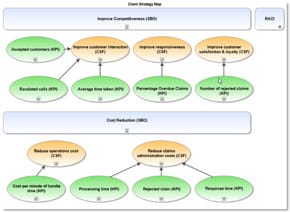 Track meaningful measurements in the context of strategy and goals.
Prioritize improvement projects that have the biggest strategic impact.
Demonstrate the strategic value of process improvements with historical data over time.
Identify and solve problems quickly
With real-time metrics and early warning alerts, you'll reduce your reactivity time and be able to resolve problems faster.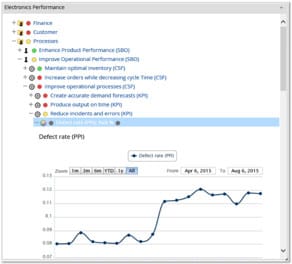 Provide process owners custom performance alerts.
Go right to problem areas with at-a-glance Traffic Light that roll up aggregated metrics.
Find the cause of issues as you drill into performance hierarchy.
Comment and collaborate with other stakeholders in real time to reduce reaction time.
See the right data at the right time
So much data, so little time! Make sure that the information critical to helping decision-makers is delivered with the right level of detail and is accessible when it's needed.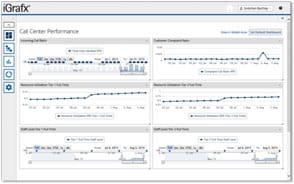 View role-specific dashboards that pinpoint the right type of information and detail.
Focus on which metrics are important for your business: KPIs, PPIs, SPIs relative to goals, processes, resources, capabilities, and more.
Monitor metrics from a virtually unlimited size and quantity of data sources.
Keep tabs on performance from anywhere with web and mobile access.
iGrafx Online Trial Evaluation
Give iGrafx a try for free!