Collaborative Process Management
Centralize process knowledge and improvement efforts for operational efficiency
iGrafx Collaborative Process Management allows organizations to be more productive in developing, documenting, communicating, and running business processes. iGrafx enables Process Transformation and Process Improvement teams to perform Process Analysis and Design quickly and easily, and enables the business to run efficiently while dealing with constant change.
iGrafx Collaborative Process Management leverages any or all of the Process Modeling and Analysis products, which are designed to allow different process expert roles accomplish their tasks most effectively, while providing a single platform for process improvement. By pairing the client tools with a central repository and web portal access, iGrafx manages and shares all relevant process information with those that need it. Optimized process designs can be automated to increase operational efficiency and transparency into process performance.
Collaborative Process Management
Repository and Portal Products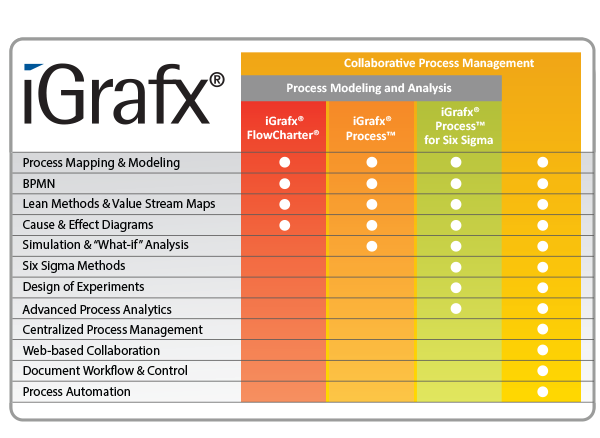 Process Knowledge Management

Leverage the unique knowledge and skills of peers

iGrafx Process Central leverages the contributions to process excellence made by process modelers and analysts to be shared, improved, added-upon, simulated, de-composed. Process optimization and improvement projects can leverage all available process information including process maps, analysis reports, spreadsheets and related documents. Capitalize on a shared, central resource model that ensures consistency of how responsibilities are represented in your process maps.

Centralized Process Storage and Control

Protect the process capital that defines your business

Keep your models safe and accessible, meeting governance requirements while also making workflow more efficient. Access control ensures processes are modified or viewed only by those with appropriate rights. Versioning and audit trails maintain accurate document history. Finding process information and relevant supporting documentation is easy with hierarchical process navigation and powerful search and query features. Integration with Microsoft® SharePoint expands process visibility to additional areas of your organization.

Document Lifecycle Management

Streamline document workflow

Managing process documents through multiple stages of maturity is important not only from a regulatory perspective, but also for a systematic approach to process development. Retain version histories and take your process models from drafts to review stages through approval and sign-off with sophisticated capabilities for making sure the right people are informed and involved at the right stages.

Work together for improved efficiency

Overcome silos in your business! Either through the modeling application or through a role-based web portal, Process Experts collaborate on processes and reuse the process knowledge that has been built up over time. Teams can work on the same files at the same time. Process optimization and improvement projects can leverage all available process information and share content between files. With Web and mobile access, process consumers can annotate or comment on processes.

Communicate process across the enterprise

People across the organization with a role in processes, either as experts, owners or performers of process, have a transparent view into the part they play and changes that will affect them. Process knowledge stored in the central repository can be communicated to those with appropriate access rights, through a role-based portal in a web browser or on mobile devices.

Maximize mapping productivity and minimize errors

Nobody does diagramming like iGrafx. Creating and editing process maps, whether they use cross-functional Swimlanes® or BPMN 2.0, is made easy with out-of-the-box templates and lots of features to help create diagrams that communicate exactly what you want with minimal clicks. Automatic correct-by-construction and rules checking capabilities will ensure BPMN diagrams meet notation standards and help enforce process compliance. Top-down hierarchical process modeling will help you focus on what's essential.

Lean Value Stream Mapping

Achieve breakthrough improvements through reducing waste

Create classic or extended Value Stream Maps quicker than with pen and paper, and save time by taking advantage of automatic calculations, work balancing graphs and data roll-up. Editing your VSMs is easy once they're captured in electronic format as is sharing them with others in your organization.

Wide Selection of Diagram Types

Document your business beyond process maps

iGrafx provides many different out-of-the box templates such as Cause and Effect (fishbone), Org Charts, Manufacturing Layout, SIPOC and more. iGrafx spreadsheet capability allows additional business information capture and documentation, with data then available to be integrated and shared among diagrams. With a wide range of palette shapes and diagramming flexibility, create your own custom templates.

Easily share your processes and related content

Share any iGrafx diagrams or processes with your peers as PDF documents as well as HTML and Microsoft® Office documents. And don't worry about page parameters or how your process will look as a published document as you capture your processes – we take care of that for you.

Author multilingual diagrams in various languages and view content in your preferred language via the web to effectively collaborate with team members worldwide and communicate with global audiences.

Process Behavioral Modeling

Turn your diagrams into an authoritative model of your real-world process

With iGrafx Process, you can quickly capture the behavior of your processes, entering data directly into the diagram such as time to perform steps, resources used, decision probabilities, process flow rules, and more. Then quickly and easily extend the diagram with information about process incoming load, schedules, and other data. This powerful As-Is representation becomes the base for creating your To-Be Future state or multiple what-if scenarios.

Powerful Discrete Event Simulation

Build your business case for change with "what-if analysis"

By performing discrete event simulation using either Process or BPMN models, you get the opportunity to foresee the results of changes to your process that are impractical to test any other way. iGrafx simulation provides realistic, accurate results based on in-depth scenarios that can include real-life empirical data and custom distributions. Dynamic animation of simulation steps helps validate your models as they are being built, and enhances understanding of where bottlenecks are developing, as well as highlights simulation paths and results.

Multiple Scenario Analysis Reporting

Make informed decisions leading to process improvement

View simulation results - through tabular and graphical reports - that show side-by-side comparison of the As-Is current state and To-Be future state of your process. Utilize a wealth of data to analyze process behavior, using individual and aggregated statistics based on Time, Cost, Resources, Queuing and custom statistics you can define. Logging information on individual transactions enables further, in-depth analysis.

DMAIC methodology support

Valuable tools for all Lean Six Sigma practitioners

iGrafx Process for Six Sigma provides a wealth of functionality to lead Lean Six Sigma belts, regardless of level, through the DMAIC process. In Define and Measure phases, use SIPOC (Supplier, Input, Process, Output, Customer) to identify the major elements of a given process and capture value streams to identify defects or waste. In Analyze and Improve phases, use cause and effect analysis to identify root causes and simulation or Rapid Design of Experiments to test alternate scenarios. Spotlight other improvement opportunities with Priority Matrices linked to processes and activities. Or, quickly and easily identify and visually highlight value-added and non-value-added activities in your process models.

Design of Experiments (DOE) & Data Fitting

Easily simulate full factorial experiments, risk-free

Identify optimal changes by designing and performing full factorial experiments in a risk-free environment. Through a direct integration with other essential Six Sigma tools like Minitab® or JMP®, experience reduced project time and potential for errors. Improve accuracy of the process model and simulation results through statistical fitting of real world data.

Bring opportunities for improvement into focus

Leverage your process maps to perform powerful path-based analysis. Using simulation data, visualize critical paths through your processes and maximize improvements. Identify what's limiting process performance in your organization depending on the priorities you've set (e.g., the critical path may be different if cost is more important than speed). Easily calculate process quality through Rolled Throughput Yield for the overall process or path.

Deploy, run and control more efficient processes

iGrafx Process Automation's model-driven process design ensures the seamless synchronization of models and real-life deployment of process workflow. The rapid design and deployment capabilities gives business groups the agility and control to manage their own processes through to execution. Process performers are guided through processes with structured, standardized task assignments, reducing lead times by timely communication of next steps and reducing process errors by ensuring adherence to the process design. Process owners monitor work progress and are empowered to remedy bottlenecks or issues as well as guarantee compliance traceability for internal and external audits.