Unite your entire organization around delivering business value.
There are many roles that contribute to achieving business excellence. iGrafx provides business, IT and process experts with the tools to accomplish their tasks most effectively within a single platform for process improvement and business transformation.
Communicate and collaborate between groups like architecture, continuous improvement, IT and compliance
Capture all enterprise knowledge in a central source including people, technology, processes
Understand your business better - provide organization-wide visibility to how all factors in your business interact and are impacted by change
Align operations to strategic goals - know what to do, why you are doing it and if it's working
Provide key contributors with the capabilities that make the difference:
Capture, Analyze and Design your processes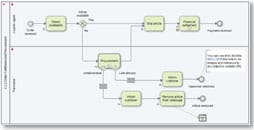 iGrafx enables Process Analysts, Process Methodologists and Process Improvement teams to perform process analysis and design quickly and easily while providing capabilities well beyond an ordinary mapping tool.

Learn more about PROCESS MODELING AND ANALYSIS
Centralize enterprise knowledge for operational efficiency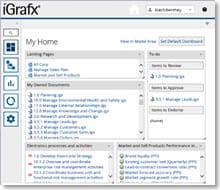 Be more productive in documenting, communicating, and managing critical business information. iGrafx provides a single source of truth of reusable process knowledge that is available for continuous improvement, team collaboration and organization-wide process transparency and understanding.

Learn more about COLLABORATIVE PROCESS MANAGEMENT
Monitor your company's performance and operational effectiveness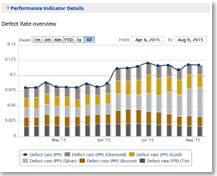 Get visibility into the status of your operations and quickly adapt to process performance issues. iGrafx enables business leaders to make intelligent decisions based on real-time operational performance.



Learn more about BUSINESS PERFORMANCE MANAGEMENT
Deploy, run and control more efficient processes

Gain agility and control by managing your own processes through to execution. iGrafx rapid process design and deployment lets you guide how work is done, reduce lead times and minimize process errors.

Learn more about PROCESS AUTOMATION
Understand and analyze the multiple dimensions of your business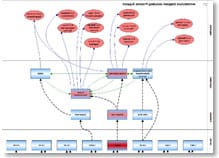 Visualize the connection between your goals, processes, capabilities and risks to understand the impacts of change and align your operations to strategy. iGrafx business architecture and enterprise architecture modeling supports better decision-making and enables you to respond quickly to changing business needs.

Learn more about BUSINESS MODELING & ARCHITECTURE
Manage SAP projects from a process perspective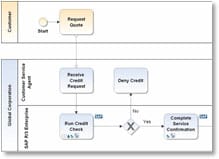 Speed up SAP projects and keep costs down through better cross-functional communication about how SAP affects end-to-end business operations. By integrating SAP process architecture into the overall business and process landscape, iGrafx provides an environment for more effective teamwork and better project control.

Learn more about SAP MODELING
Use the right combination for your organization
Regardless of size, industry or process maturity, iGrafx scalable solutions enable organizations to take their process programs to the next level towards process excellence. Get equipped with the capabilities you need to achieve your goals for today and create the foundation to build on in the future.