Features
Model–Driven Design – Turn concept into reality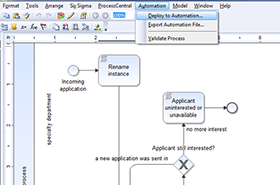 By simply describing how work needs to be done in a graphical process model, business groups bring their processes to life as an executable application without programming. Enter information such as who can start the process, who can perform tasks for each process step, time constraints for completion, and links to other IT systems. Deploying the workflow applications is accomplished in a single click.
Industry and process best practice templates - Accelerate design time
Leverage a library of templates for multiple industries and specific processes:
Sales, Services, Human Resources, Finance
Information Technology, Quality Management, Process Management
Manufacturing, Logistics
Business system integration - Integrate with existing IT landscape
Create a user-friendly single interface to other business systems, such as ERP or ECM applications, to fill existing gaps in human workflow steps and ensure the integrity of system data. Integrate tasks and data from your existing IT investments for a smooth workflow.
Personalized Task Lists - ensure productivity and accuracy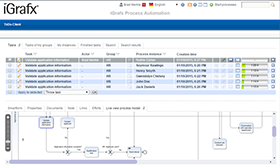 Personalized task lists helps process participants work efficiently, prioritizing all open tasks of every process instance and ensuring that no task is missed. Required fields and approved decision paths guide employees through the process step by step and ensure compliance. A Live View of the process model assists process participants with understanding where they are in the process for each process instance.
Ad-Hoc Tasks - Maintain visibility to process exceptions
Flexible ad-hoc task creation allows documenting process exceptions when allowed to keep the process moving while providing visibility into how exceptions were dealt with and how processes might need to be adapted in the future.
Status Monitoring - gain real-time insight into process performance
Quick snapshot views of process status give the process manager insight to progress and / or problems. Aggregate views of work queues help to allocate resources accordingly. Trends of process performance in personalized dashboards provide business intelligence input to decisions and plans for future process improvement.
Compliance reporting - Demonstrate compliance and accountability
Comprehensive query and reporting informs process owners if all steps have been completed, ensuring process control and proving compliance.