Process Performance Management
Monitor your company's process behavior and operational effectiveness
iGrafx Process Performance Management permits your organization to understand the people, process, and technology involved in a value chain before taking steps to improve performance. iGrafx leverages your existing enterprise models and process landscape to display performance measurements in context for maximum understanding. By dynamically charting the right performance metrics at the right time, iGrafx reduces the time executives need to check performance of their processes, and the time process owners need to react. Process and performance transparency is increased as both the context and 'ripple effects' of each measurement are communicated to relevant audiences via web where they stay tuned to the most recent updates.
Performance Management is a critical component that takes the effectiveness of the other components of a BPM solution to a new level. The value of each is multiplied by integrating performance management to measure existing process performance baselines before applying changes and monitoring results. In turn, performance management benefits from a defined structure and context in which to consume, understand and analyze results.
Process Performance Management Products
iGrafx® Performance Central™
Create, Manage and Monitor key performance indicators from a process-centric perspective
iGrafx Enterprise Modeling
iGrafx Process Performance Management layers process monitoring over the enterprise-level models created with iGrafx Enterprise Modeling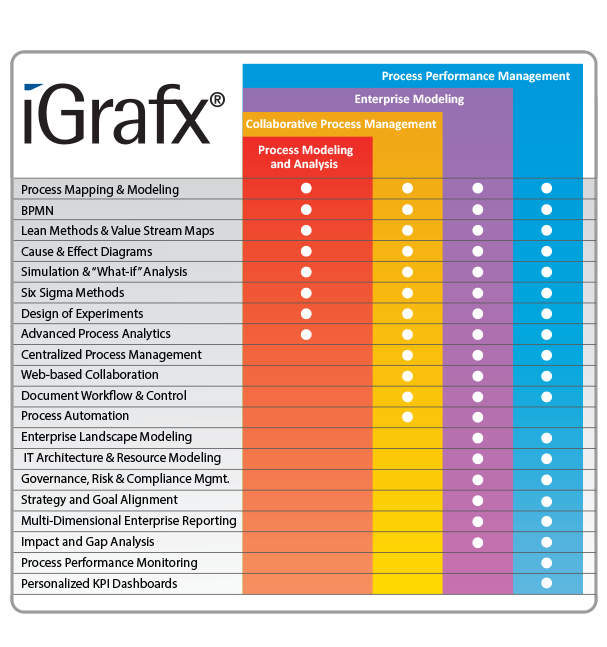 Process Architecture Integration

Improve prioritization of process improvements

Process-oriented measurements are more intuitive and meaningful to executives adopting a Process Performance Management approach when displayed in relation to business strategies and goals. Key Performance Indicators are layered over an existing BPM model defined in iGrafx, taking your investment in process-oriented architecture to a new level. The strategies, goals and associated measurements created in enterprise modeling activities become the structure by which performance metrics are driven, allowing prioritization of projects based on strategic focus.

Discrete and Aggregated Analysis

Employ multiple methods supporting accurate decision making

iGrafx Performance Scorecards display Key Performance Indicators in a hierarchical view corresponding to your organization's strategy, goals and objectives. With at-a-glance Traffic Light Roll Up capabilities, identify problem areas quickly with aggregated indicators that reveal appropriate detail as you traverse the hierarchy.

View the right level of information at the right time

Create personalized dashboards and summary charts that pinpoint the right type of information at the appropriate level of detail for different roles in the organization. iGrafx provides users the ability to tailor dashboards to their needs while maintaining a consistent design across the organization.

Monitor all your important systems in real time

Monitor KPIs from a virtually unlimited size and quantity of data sources, accessing measurements the moment they are stored.

Reduce reactivity time

Alert process owners and stakeholders of process performance based on customized filters and notification schedules. Instant comment capability allows stakeholders to collaborate quickly with others on reported information, reducing reactivity time.

Protect sensitive data

Utilize your authentication mechanism of choice, e.g., LDAP, Kerberos, Smart Card, etc. and restrict access to sensitive data.