Press Release
Whitepaper: Transforming Banking Business Architecture – in 4 steps!
A suggested approach of how to manage the implementation of the UK Banking Reform Act through business architecture transformation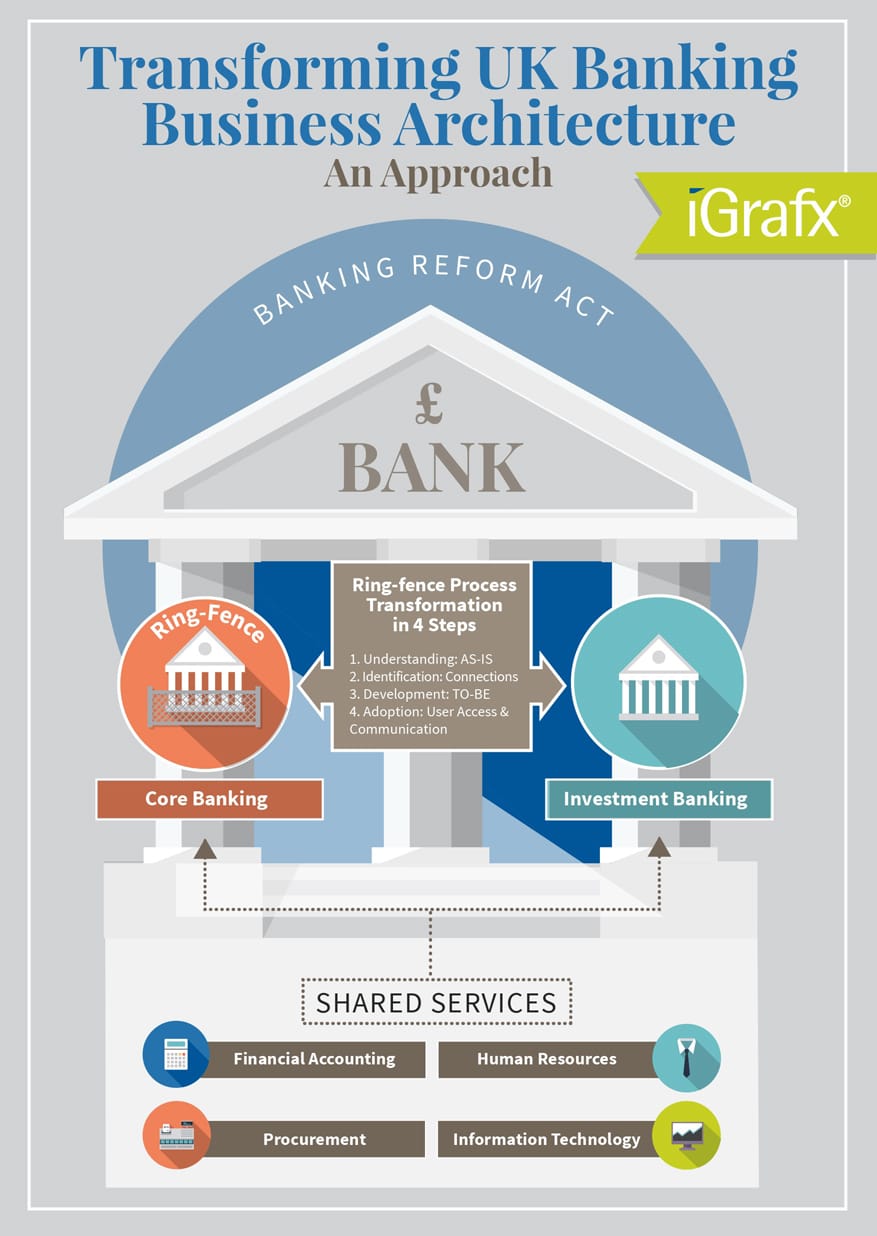 iGrafx, a leading provider of process management and analysis solutions, has announced the availability of its new whitepaper "Transforming UK Banking Business Architecture". It explores a major challenge facing UK banks who have to respond by 2019 to new requirements created in the Financial Services (Banking Reform) Act.
The whitepaper explains why these requirements have come about and what it means for the bank's future, presenting the outcome that this legislation compels them to restructure their operations to isolate personal and business banking from the risks of investment activities. David Winders, author of the whitepaper and Senior Consultant of iGrafx, puts forward a methodology of how to approach this substantial task through modelling the current state and separating out the components into separate future operations, including a discussion on the use of shared services as a way of reducing the cost of this reorganisation.
"The whitepaper gives emphasis to communication to both internal and external stakeholders and stresses the importance of providing traceability of compliance through the mapping of compliance requirements, risks and measures," said David Winders. That way compliance can be clearly demonstrated on an ongoing basis.
Although specifically written around the consequence of this new banking regulation the whitepaper has much to offer the management of regulation and compliance as a whole.
Free download of the complete whitepaper here.
More information on iGrafx: www.igrafx.de, Twitter, Google and Xing.
About iGrafx
iGrafx process management and analysis solutions empower organisations to achieve maximum performance. iGrafx captures and communicates the alignment of strategy, people, processes and technology, and unites the entire organisation around delivering business value. iGrafx delivers strategic and operational decision support to enable our customers to become and remain world class competitors. For over 20 years, iGrafx products and services have been helping companies of all sizes across the globe manage their processes and optimise their business. For more information, please visit www.igrafx.com.
Press Contact:
iGrafx GmbH
Linda Holz
Tel.: +49 (0) 8131 3175 170
www.igrafx.com
© 2013 iGrafx, LLC. All rights reserved. iGrafx and the iGrafx logo are trademarks or registered trademarks of iGrafx, LLC. All other product, font and company names and logos are trademarks or registered trademarks of their respective companies.