Deploy, run and control more efficient processes
Components Leveraged: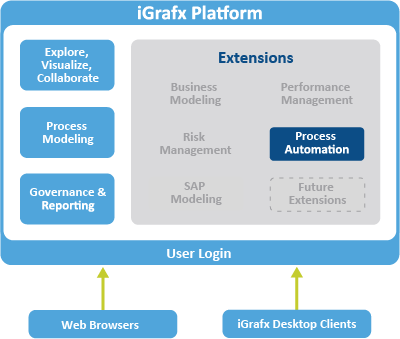 iGrafx Process Automation synchronizes the world of design and analysis with real-life deployment of process workflow. Rapid design and deployment capabilities give business groups the agility to manage and control their own processes. Previously manual processes are optimized by an automated workflow of structured, standardized task assignments, reducing lead times through timely communication of next steps and minimizing process errors by ensuring adherence to process design. Process owners can monitor work progress and remedy bottlenecks or issues as well as guarantee compliance traceability.
Give business teams the independence to automate their processes
Bring your process diagrams to life as an executable application with little to no programming.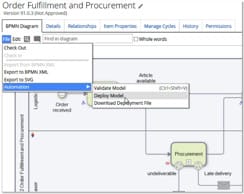 Create drag & drop BPMN diagrams with UI for business people.
Define workflow, rules, and data flow with other IT systems.
Deploy models to automated workflow in a single click Accelerate design time with best practice templates for multiple industries and specific processes.
Accelerate design time with best practice templates for multiple industries and specific processes.
Ensure processes are performed accurately and more efficiently

Help process participants to work through prioritized tasks quickly and precisely without missing a beat, while still providing flexibility when needed.
Cue process participants step-by-step with personalized task lists.
View each transaction in context with a Live View of the process model.
Capture process exceptions that keep the process moving while providing traceability.
Bridge workflow gaps with other business applications, such as ERP or ECM.
Leverage automated process data for what-if analysis and improvement.
Manage processes for higher performance and better compliance
Transparency into automated processes provides the ability not only to demonstrate compliance and accountability, but also provides real-time insight into process performance for better decision making.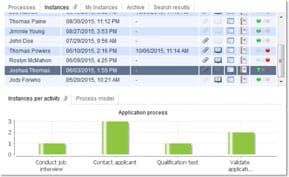 Guide employees through required steps and approved decision paths to ensure compliance..
Inform process owners and auditors if all required process steps have been completed..
Get rapid insight to progress and/or problems with snapshots of process status.
Use aggregate views of work queues to manage allocation of resources.
Fuel informed decisions with knowledge of process performance trends.