Leading Practice
LEADing Practice, also called LEAD, is a collection of best and leading practices that leaders and outperformers in their industry and market are applying to keep or develop their differentiating and competitive aspects. Based upon university research and international standards, LEAD has integrated and standardized a set of best and leading practices into a common way of thinking, working and modelling.
LEAD concepts uniquely combine the much needed connection between Enterprise Modelling (e.g. Business Model/Competencies, Value Mgt, Services Model, Performance Mgt, Process Notations, Measurements, Information Mgt and Rules) with Enterprise Architecture (e.g. Business Architecture, Value Architecture, Service Oriented Architecture, Process Architecture, Information Architecture, Technology Architecture and Solution Architecture), thereby enabling all organizations to build on common principles.
Recognized as a paradigm shift within the global business and IT community, the LEAD open standards have been adopted by most of the fortune 500 companies and integrated into software solutions such as SAP® (ASAP Methodology), IBM® Rational®, iGrafx® and Software AG® (Aris®).
Today LEADing Practice is the fastest growing open standard and open source community dedicated to developing Enterprise Modelling and Enterprise Architecture Frameworks and is supported by the 2nd largest certified community of +2700 practitioners.
iGrafx leverages LEADing Practice process, value and information modeling principles and concepts, including the eXtended BPMN modeling capabilities, to support advanced business modeling that bridges strategy and operational execution.
www.leadingpractice.com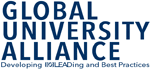 Global University Alliance
The Global University Alliance is a consortium of hundreds of universities worldwide that collaborate on academic research, analysis and developments in the field of Enterprise Modelling and Enterprise Architecture. The Alliance focuses on exploring existing leading practices and best practices as well as to create new practices where gaps exist. Through the Alliance, intellectual resources across the academic world align to:
RESEARCH: Address research concerns and questions that span around enterprise ontology and semantics within enterprise concepts, design, functions, tasks, information handling and governance and the relationships between those concepts within enterprise modelling and enterprise architecture disciplines.
DEVELOP UNIVERSITY CURRICULUM: Develop university curriculums for both Bachelor and Master level (existing BPM, SOA, Enterprise Architecture, Sustainability, Information Management and Project Management).
DEVELOP STANDARDS: Package applied academic research and findings into frameworks, methods and approaches that can be used by industries and universities alike.
ESTABLISH COMMUNITY SHARING: Share and publish the findings either in publications or to this open standard community.
iGrafx applies modeling principles developed through academic research by the Global University Alliance, through the integration of LEADing Practice concepts into the iGrafx products suite.
www.globaluniversityalliance.net