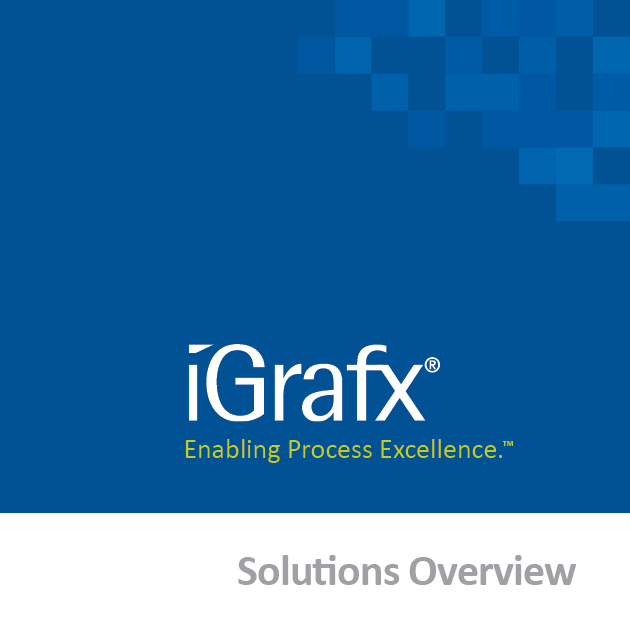 Unabhängig davon, ob Sie sich für geschäftliche Herausforderungen, eine bestimmte Zielgruppe, Branche oder Methode interessieren, erfahren Sie mehr darüber, wie iGrafx Sie dabei unterstützen kann, die Prozessoptimierung in Ihrem Unternehmen zu erreichen.
It's all about one thing: delivering positive business outcomes. And depending on what is driving your organization's desire to improve and excel, perspectives may differ. The solution doesn't waver though: iGrafx for process-centric business transformation.
iGrafx offers a rich set of process design, analysis, optimization and management capabilities that together fulfill the needs of the three key process constituencies: the IT user's needs for process modeling for implementation; the business analyst community's needs for process modeling for optimization; and the continuous improvement initiative community's needs for process methodology support. Through its modular architecture, companies can ensure that process owners, IT and compliance specialists have the tools they need to contribute to process excellence. The solution effectively adapts to the specific user requirements based on the task at hand while providing a single platform for process improvement.
Let us help guide you through how our solutions can help you, whatever your perspective.

Nach Zielgruppe
Jeder Einzelne im Unternehmen hat individuelle Aufgaben, Ziele und Herausforderungen. Wir möchten, dass Sie Ihre Ziele erreichen und so einen Beitrag zur unternehmensweiten Prozessoptimierung leisten.

Nach Branchen
iGrafx hat über 20 Jahre Erfahrung in der Unterstützung großer wie kleiner Unternehmen aus zahlreichen Branchen. Informieren Sie sich, wie diese erfolgreich wurden und welchen Beitrag wir zu Ihrem Erfolg leisten können.

Nach Methode
Lean Six Sigma, GRC, Enterprise Architecture... iGrafx liefert Ihnen die Werkzeuge zum Erfolg.