Registration iGrafx Webinar - 23.05.2019
TITLE
Human Workflow Management - Compliant Digitization of your Business Processes - 23.05.2019 - 15h-15:45h
AGENDA
Using the practical example of a travel application, we will show you in this webinar how the interaction of different interfaces and process participants takes place. The process is mapped from the actual modeling to the enrichment of information to the transfer into the iGrafx Workflow Engine.
SPEAKER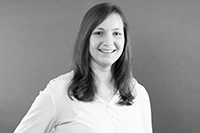 Katharina Hecht, Pre-Sales Team Lead EMEA
REGISTRATION
Register today for our webinar free of charge and without obligation. If you are unable to attend the current dates, we will send you the full recording after the webinar. However, please register for this via the registration form under "Registration". The dial-in data for the webinar should be sent to you in good time before the webinar begins.
If you have any questions, please do not hesitate to contact us:
events.manager@igrafx.com
. We look forward to your participation!