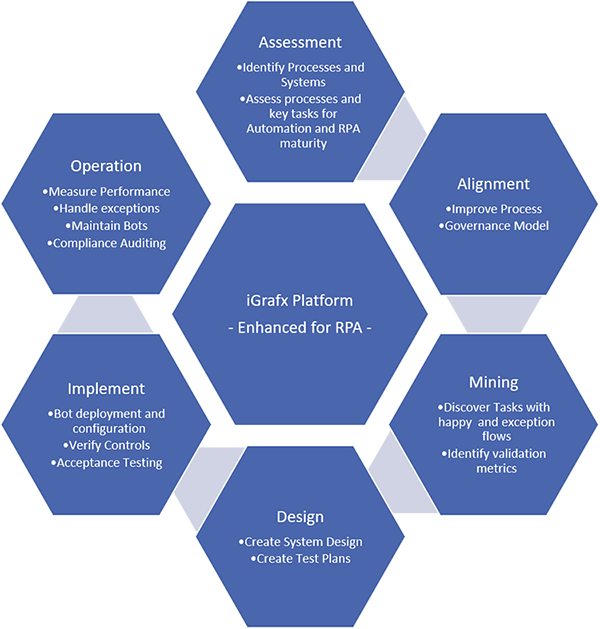 The iGrafx RPA Accelerator is an end-to-end solution, enabling enterprises to identify, assess, prioritize, execute and govern robotic process automation (RPA) projects. For the first time ever, Center of Excellence leaders can access the combined, best-of-breed capabilities from a single source for a single price.
Here is What You Get:
We've architected a best-of-breed solution combining a new iGrafx RPA Module and key partner capabilities into a single, easy-to-buy solution so that our customers can figure out exactly what to automate and then prove results. It also addresses the longer-term challenges of governing ever-increasing workforces of bots and ensuring processes remain compliant.
The turnkey bundled package includes:
The latest version of iGrafx Platform, including the new RPA Module
Process Mining from myInvenio
RPA bots from either UIPath or Servicetrace
Professional services from BP3 Global, Inc.
Let us show you how you can jumpstart your RPA projects by contacting iGrafx.
About Our Partners:

myInvenio, the leading process & operational intelligence digital transformation platform, accredited as 'Cool Vendor' in analytics by Gartner (2016), comes from OT Consulting, an ICT company with over 20 years of successful history, 100 people and a solid growth rate. It took shape through daily interactions with customers in Banking, Automotive, Public Sector & Fashion, including Ferrari, Maserati, Max Mara, Swarovski, Accenture, and Credem Bank.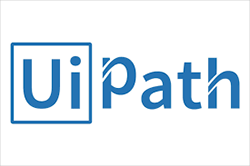 Built for both business and IT, UiPath is the leading platform for enterprise Robotic Process Automation (RPA). More than 1,500 business customers and government agencies use UiPath's Enterprise RPA platform to rapidly deploy software robots that perfectly emulate and execute repetitive processes, boosting business productivity, ensuring compliance and enhancing customer experience across back-office and front-office operations.

For 15 years, Servicetrace has been successfully developing innovative robotic solutions in the fields of Robotic Process Automation (RPA), Test Automation (TA) and Application Performance Monitoring (APM). With Servicetrace's automation solutions, organizations can launch their Enterprise Automation Journey safely, quickly and easily. Many global players across all industries trust the multi-patented technology, among them many of the 2,000 largest European companies.

BP3 provides business process, decision management, and analytics software and services to the Fortune 500. Since 2007, BP3's Brazos Platform has been powering thousands of digital transformations for our customers. BP3's solutions and services have transformed customer experiences in financial services, retail, healthcare, and the energy sectors. BP3 goes beyond analytics by embedding insights into workflows to actually address the problems by connecting the dots between the customer experience and the enterprise. The largest corporations in the world depend on BP3's operational services including: 24×7 solution support, process optimization, migration assistance, and cloud management.