Features
Strategy, Goals, and Measures – support enterprise wide initiatives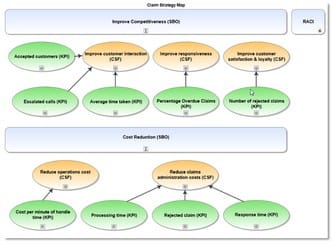 Capture your organization's strategies and goals, and monitor measurements of achievability. Aligning your process landscape and improvement projects to your company's objectives will aide in decision making and support that projects are on the right focus.
Enterprise Architecture – improve your ability to plan technology investments
Modeling and referencing IT architecture resources such as applications, systems and equipment allows for identifying impactful relationships and planning how IT can best support the business. Reuse enterprise elements across multiple models including best practice frameworks to guide development. Global reference models and regional variant modeling help enforce company-wide standardization.
Best Practice Frameworks – accelerate your Enterprise Modeling Efforts
Quickly define enterprise models while ensuring alignment with industry standards and published enterprise frameworks. Gain consensus and help drive continuous improvement and transformation of processes.
Enterprise Knowledge Management – leverage the knowledge and skills of peers
Capitalize on a central enterprise model that ensures consistency of how processes and supporting object relationships are represented in your process maps. iGrafx leverages the contributions to process excellence made by other process modelers and analysts to be shared, improved, added-upon, simulated or de-composed. Process optimization and improvement projects can leverage all available process information including process maps, analysis reports, spreadsheets and related documents.
Organization Resources – capture relationships to understand impact and plan for improvements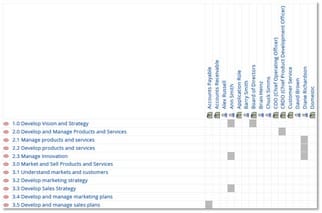 By modeling organizational structures and roles, you will understand who is responsible, accountable, informed, and consulted (RACI) for different activities that impact operations.
Automatic Diagrammatic Reports – visualize for easier analysis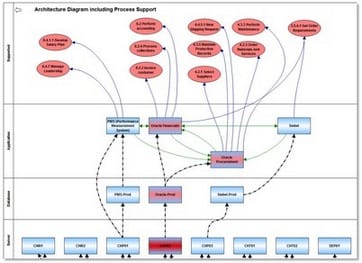 Based on enterprise relationships, run visual reports that aide in communicating impacts and opportunities for improvement: Business Value Chain diagrams, Architecture diagrams, Strategy Maps, Organization charts and Relation diagrams and more…
Impact and Gap Analysis – trace the thread of relationships from strategy to execution
Understand how people and processes impact operations and relationships with external groups such as suppliers and customers. Including IT architecture resources such as applications, systems and equipment allows for identifying impactful relationships and planning how IT can best support the business.
Customizable Reporting – flexible, multi-dimensional reporting for optimal analysis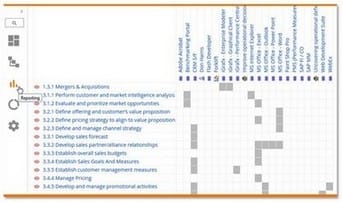 Report on all objects and relationships created and stored in your enterprise models – from measurement and risk scorecards to RACI Matrices and model comparison deltas, reports are configurable and exportable in easy-to-read formats. Perform impact and gap analysis on areas of the business that are interconnected, or that should be. Monitor model quality and completeness and where-used to help navigate and understand more complex models.
Project Management – define projects to improve your organization
Identify and define projects that address the gap between the "as is" and "to be" enterprise model and leverage portfolio management to prioritize and plan projects. Aligning enterprise models with project models keeps project development status in check.