The Power of iGrafx Business Process Management Solutions in the Cloud
In the current business climate, efficiency has never been more important. The iGrafx Cloud gets you up and running in no time with the most comprehensive and easy to use business process management and improvement solution available. iGrafx Cloud enables your business to streamline operations while reducing capital expenditures at the same time. With geographic mobility that allows for global collaboration any day or time, business productivity increases, effectively raising business profits.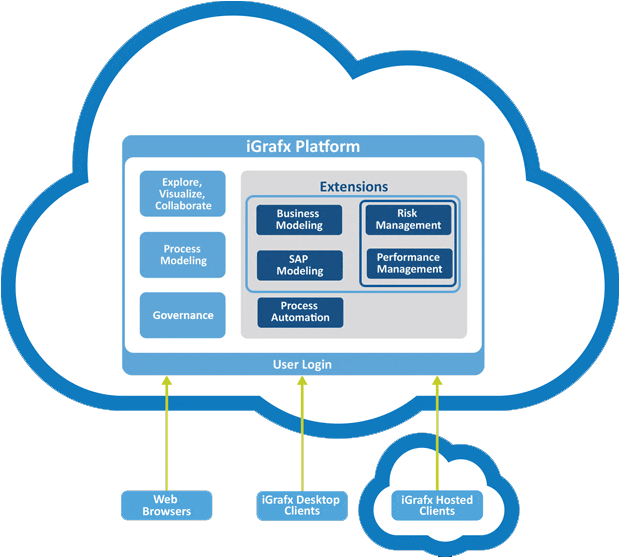 Effortless Deployment
While on-premise solutions require an upfront IT assessment of the product on how it may impact the operational environment prior to deployment, the iGrafx Cloud can be easily accessed without any risks to your existing environment. In addition, the complex task of managing and tracking user licenses and any issues associated with compliance are eliminated with the iGrafx Cloud. There's simply no need to leverage internal IT resources - you just provide your user information and let iGrafx do the rest.
Global Productivity
Businesses today have an increasing number of widely dispersed employees with the need to leverage centralized data. The iGrafx Cloud gives you access from anywhere, anytime, allowing for ease of collaboration and increased efficiency.
Optimize ROI
Avoid large upfront capital expenditures where you can. A simple all-inclusive subscription fee allows you to eliminate costs associated with internal IT expenses.
iGrafx will work with your organization to assess the right deployment and configuration solutions that fit your needs.
Call 503-404-6050 or contact us to find out more.
iGrafx Online Trial Evaluation
Give iGrafx a try for free!