A journey map is a timeline of actions that describe the relationship between your company and either its internal or external customers. Or both. It provides a visualization of all interactions with your organization, from the point of view of your customer, user, partner, or product.
Taking the time to map out your journeys provides a unique view of processes, breaks down departmental silos, and allows you to understand – and adjust – your business operations accordingly. Unquestionably, happy customers and satisfied employees create business value. With iGrafx journey maps, which link directly to underlying operational processes, your ability to tangibly increase value is immediate.
Highlights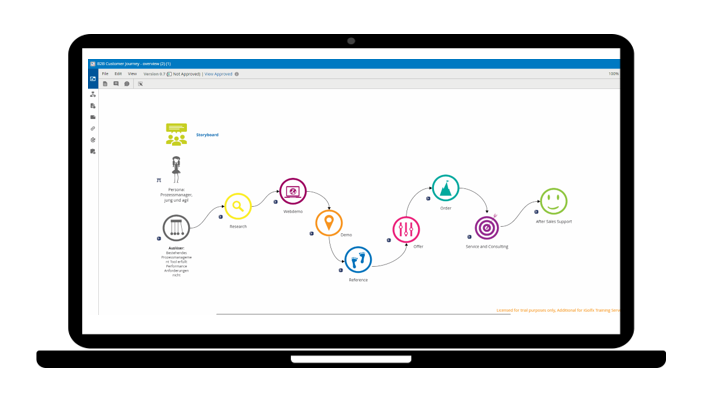 Immediate integration of various Journey types, e.g. Customer, Partner, and Employee.
Direct linking of (Customer) Journey Maps with the existing company structure and processes.
Analysis and Reporting on applied Journeys, Moments, as well as Touchpoints.
Linking with iGrafx Performance Management to measure performance on specific touchpoints.
Flexible graphical design possibilities by using tailored shapes and methodologies.
With iGrafx - connect your Journeys to your Process Architecture Landscape

iGrafx Customer, Kelly Sewczwicz at Cox Communications Explains How They Use iGrafx to Map Customer Journeys
Learn more about how iGrafx customers have used Journey Maps to completely change how they view process.