Process Modeling & Analysis
Capture, Analyze and Design your processes as a foundation for continuous improvement
Components Leveraged: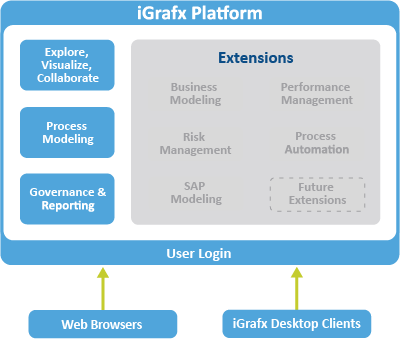 iGrafx enables Process Analysts, Process Methodologists and Process Improvement teams to perform Process Analysis and Design quickly and easily while providing robust features well beyond an ordinary mapping tool. iGrafx modeling components are designed to allow different continuous improvement roles accomplish their tasks most effectively as part of an enterprise-wide approach to process excellence.
Increase modeling productivity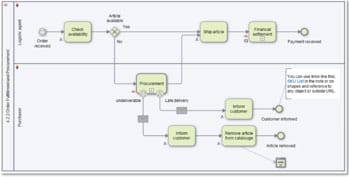 Spend less time documenting process and more time creating business value. iGrafx automatically manages many of the drawing tasks to capture processes quickly while ensuring consistency.
Intuitive modeling of BPMN and cross-functional Swimlane® diagrams.
Use templates and correct-by-construction modeling to build models faster.
Model from anywhere with browser and mobile access.
Easily manage complex processes with drag & drop hierarchy structure.
Include process behavior such as resources, decisions, rules, and more.
Quickly convert existing process maps into BPMN format for time-to-deployment advantage.
Easily Perform Analysis for Innovation and Continuous Improvement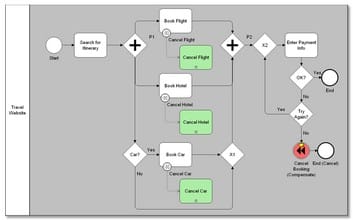 Build your business case for change in a controlled environment
Perform discrete event simulation to foresee the results of changes.
Visualize dynamic animation of simulation steps to identify bottlenecks and delays.
View side-by-side comparison of the As-Is and To-Be.
Easily design full factorial experiments, risk-free.
Improve accuracy of simulation results through statistical fitting of real world data.
Communicate processes clearly, completely and efficiently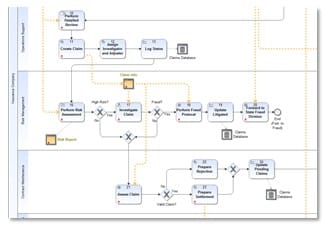 Enhance communication between process performers, analysts and implementers through multiple ways to convey important information
Include visual indicators of service, information, reporting and rule flows in the context of the process.
Easily share your processes and related content in PDF or Word narratives.
Document your business beyond process maps with Cause and Effect, Org Charts, SIPOC and more.
Capture and share classic or extended Value Stream Maps.
The right tool for different jobs
iGrafx provides different roles with the optimum tool for performing modeling and analysis tasks effectively:
iGrafx Online Trial Evaluation
Give iGrafx a try for free!