Process Modeling & Analysis
Features
Intelligent Diagramming – support enterprise wide initiatives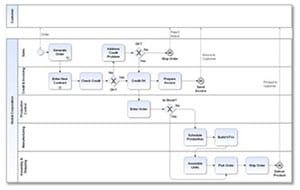 Nobody does diagramming like iGrafx. Creating and editing process maps, whether they use cross-functional Swimlanes® or BPMN 2.0, is made easy with out-of-the-box templates and lots of features to help create diagrams that communicate exactly what you want with minimal clicks. Automatic correct-by-construction and rules checking capabilities will ensure BPMN diagrams meet notation standards and help enforce process compliance. Top-down hierarchical process modeling will help you focus on what's essential.
Lean Value Stream Mapping – achieve breakthrough improvements through reducing waste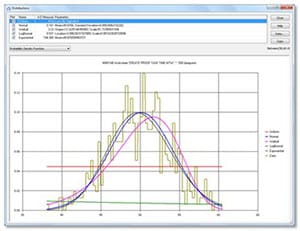 Create classic or extended Value Stream Maps quicker than with pen and paper, and save time by taking advantage of automatic calculations, work balancing graphs and data roll-up. Editing your VSMs is easy once they're captured in electronic format as is sharing them with others in your organization.
Wide Selection of Diagram Types – document your business beyond process maps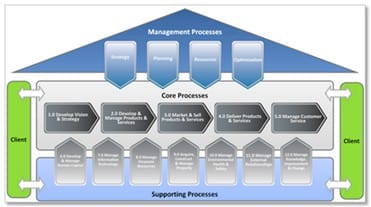 iGrafx provides many different out-of-the box templates such as Cause and Effect (fishbone), Org Charts, Manufacturing Layout, SIPOC and more. iGrafx spreadsheet capability allows additional business information capture and documentation, with data then available to be integrated and shared among diagrams. With a wide range of palette shapes and diagramming flexibility, create your own custom templates.
Multilingual Content – communicate process across borders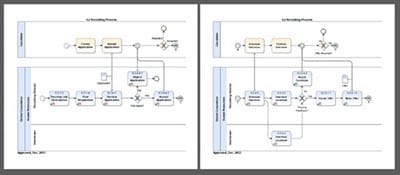 Author multilingual diagrams in various languages and view content in your preferred language via the web to effectively collaborate with team members worldwide and communicate with global audiences.
Model Publishing – easily share your processes and related content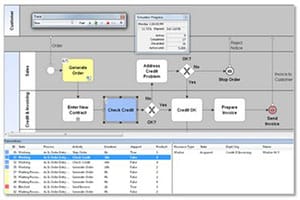 Share any iGrafx diagrams or processes with your peers as PDF documents as well as HTML and Microsoft® Office documents. And don't worry about page parameters or how your process will look as a published document as you capture your processes – we take care of that for you.
Process Behavioral Modeling – create authoritative models of your real-world process

Quickly capture the behavior of your processes, entering data directly into the diagram such as time to perform steps, resources used, decision probabilities, process flow rules, and more. Then quickly and easily extend the diagram with information about process incoming load, schedules, and other data. This powerful As-Is representation becomes the base for creating your To-Be Future state or multiple what-if scenarios.
Powerful Discrete Event Simulation – "build your business case for change"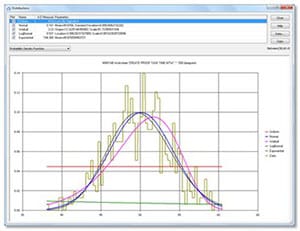 By performing discrete event simulation using either Process or BPMN models, you get the opportunity to foresee the results of changes to your process that are impractical to test any other way. iGrafx simulation provides realistic, accurate results based on in-depth scenarios that can include real-life empirical data and custom distributions. Dynamic animation of simulation steps helps validate your models as they are being built, and enhances understanding of where bottlenecks are developing, as well as highlights simulation paths and results.
Multiple Scenario Analysis Reporting – make informed decisions leading to process improvement
View simulation results - through tabular and graphical reports - that show side-by-side comparison of the As-Is current state and To-Be future state of your process. Utilize a wealth of data to analyze process behavior, using individual and aggregated statistics based on Time, Cost, Resources, Queuing and custom statistics you can define. Logging information on individual transactions enables further, in-depth analysis.
DMAIC methodology support – valuable tools for all Lean Six Sigma practitioners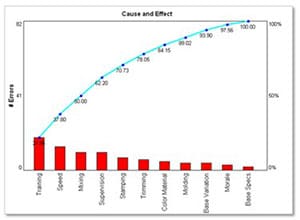 iGrafx provides a wealth of functionality to lead Lean Six Sigma belts, regardless of level, through the DMAIC process. In Define and Measure phases, use SIPOC (Supplier, Input, Process, Output, Customer) to identify the major elements of a given process and capture value streams to identify defects or waste. In Analyze and Improve phases, use cause and effect analysis to identify root causes and simulation or Rapid Design of Experiments to test alternate scenarios. Spotlight other improvement opportunities with Priority Matrices linked to processes and activities. Or, quickly and easily identify and visually highlight value-added and non-value-added activities in your process models.
Design of Experiments (DOE) & Data Fitting – easily simulate full factorial experiments, risk-free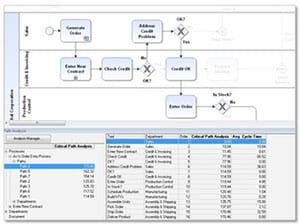 Identify optimal changes by designing and performing full factorial experiments in a risk-free environment. Through a direct integration with other essential Six Sigma tools like Minitab® or JMP®, experience reduced project time and potential for errors. Improve accuracy of the process model and simulation results through statistical fitting of real world data.