Achieve Maximum Performance at Your Organization
Interactive Map: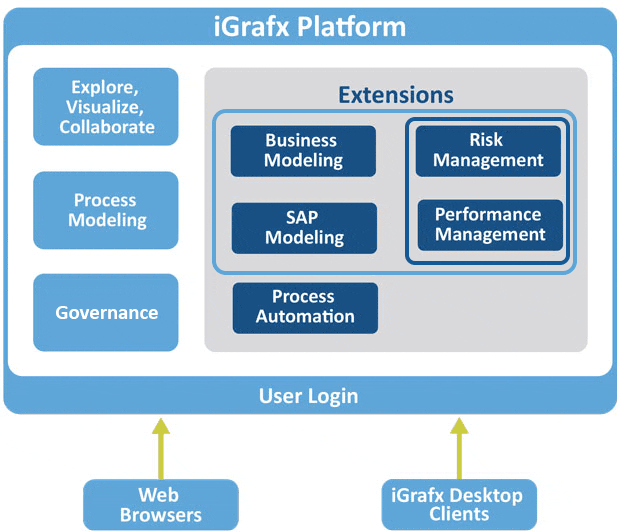 iGrafx Platform
Web Based Collaboration for BPM
The iGrafx Platform is a web-based, centralized platform accessible from anywhere, with a state-of-the-art user experience in a highly secure environment. Superior user management capabilities allow you to easily administer licenses and permissions. Robust collaboration capabilities include:
Intuitive Navigation
Dashboards
Web Diagramming
Process Management
Reporting
Persona Specific Access
Engage your user audience to achieve the highest levels of business optimization with our Process Modeling and Analysis and Collaborative Process Management solutions.
iGrafx Platform Extensions
Enable Powerhouse Capabilities
Functional extensions of the iGrafx Platform enable the delivery of desired capabilities to the broadest audience. User access to functionality is configurable so you can get the right set of capabilities to the right people. Extensions currently include: Business Modeling and Architecture, Risk Management, Performance Management, Process Automation, and SAP Modeling.
iGrafx Desktop Clients
Simple Diagramming to Sophisticated Modeling and Analysis
The iGrafx Desktop Client applications provide battle tested capability to your novice and expert users alike. Plugging in seamlessly to the iGrafx Platform, these applications are key participants in the iGrafx collaborative environment, putting powerful tools in the hands of the people that can leverage the value they provide. iGrafx Desktop Clients are included in our suite of Process Modeling and Analysis solutions.
iGrafx Online Trial Evaluation
Give iGrafx a try for free!