Manage SAP projects from a process perspective
Components Leveraged: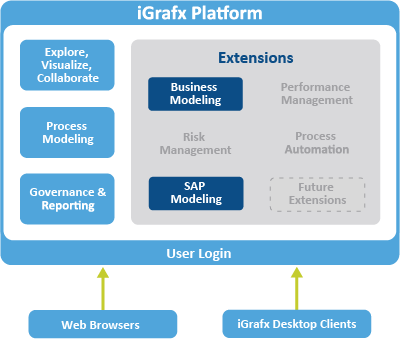 iGrafx SAP® modeling capabilities permit cross-functional stakeholders collaborating in SAP implementations, upgrades, or change management activities to communicate effectively. In organizations that run SAP, enterprise modeling would be incomplete without including the SAP landscape and understanding how it affects end-to-end business operations. By integrating SAP process architecture and incorporating implementation and change management activities into the overall business process management environment, teams are more effective and SAP projects are less costly.
Map SAP to your business requirements
A holistic model that shows the connections between SAP and the rest of your business will improve your initial SAP implementation and identify how future changes will impact the rest of the organization.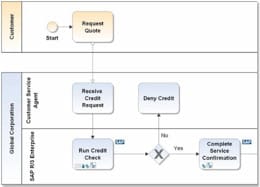 Visualize where SAP automated activities are part of a larger business process.
Document process-related requirements – technical, functional and financial – to fill out the full picture for implementation teams..
Meet compliance imperatives by articulating required business rules and controls.
Accelerate projects with better business and IT collaboration
Ensure that business analysts are in alignment with the SAP implementation teams with a tool to communicate how their business world needs to be supported.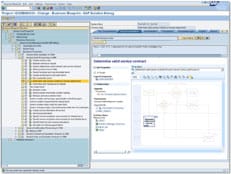 Design and edit SAP business blueprint projects in a business-friendly tool.
Combine business terminology with system and data information in a single model.
Guarantee the integrity of blueprint models through synchronization of iGrafx and SAP Solution Manager.
Track key personnel who should be contacted for input on process design, notified and trained on changes and even recruited to assist in end-user testing.
Analyze impacts and readiness for change
iGrafx enterprise models ensure you maintain a level of abstraction between the way your business operates and the technology that implements the processes. This allows for maximum flexibility when designing changes to SAP, while letting you just how those changes impact the overall business.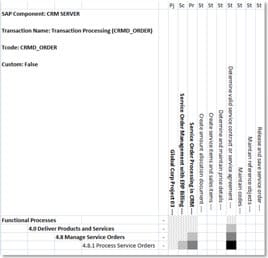 Run easy-to-read visual reports to analyze the effect of SAP on operational processes and both internal and external resources.
Plan how SAP-related IT architecture resources are needed to best support the business.
Detect areas of opportunity for SAP to improve business operations.
iGrafx Online Trial Evaluation
Give iGrafx a try for free!