Features
Create and edit SAP project blueprints – keep the context of the end-to-end business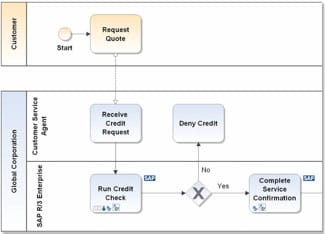 Using a tool truly developed for the business user, designing and editing SAP process structures in a business blueprint project is a snap. Project Managers and Process Experts can easily identify which parts of the SAP scenarios are appropriate to implement, and then model the actual business process, identifying which activities are automated by SAP Transactions, and which Process Steps remain manual.
Align SAP processes with the business - see what is supported by SAP automation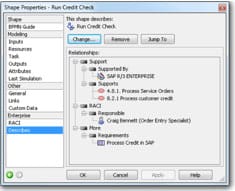 By starting with your operational model of processes and adding the SAP supporting layer, you are able to create an abstraction between the way your business operates, and the technology that implements the processes. This abstraction allows for maximum flexibility when designing changes to existing SAP implementations, yet allows powerful reporting capabilities to see just how SAP is part of the overall business.
Map and Model SAP processes - communicate better with both IT and end users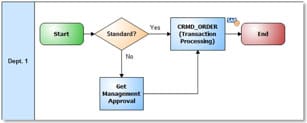 Visually creating context for where and how SAP processes and transactions are used within the business means that more people in the business will understand the process. An effective communication method to ensure that business analysts are sharing their needs with the SAP implementation teams, SAP process maps also streamline testing and training. Process maps in the iGrafx portal can be viewed directly within SAP Solution Manager, so everyone is looking at one source of the truth.
Document requirements for SAP projects - leverage standardized process documentation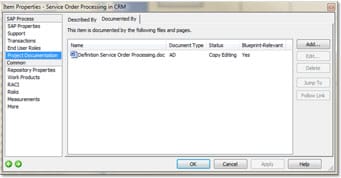 Process documentation that is being created for planning and continuous improvement can easily be leveraged to provide those responsible for SAP implementation with visibility to business requirements in SAP Solution Manager. By using business terminology that is layered with system information important for designing SAP processes and change management, sharing documentation bridges the gap between business and IT. Additional requirements can be documented – technical, functional and financial – to fill out the full picture for implementation teams. Rules management will also help make sure compliance initiatives are being met.
Organization and Technology Analysis - capture relationships to understand impact and plan for improvements
By modeling organizational structures and roles, you will understand who is responsible, accountable, informed, and consulted (RACI) for different activities that are involved in SAP processes that impact operations. Report on how Organization Units and End User Roles should be contacted for input on process design, notified and trained on changes and even recruited to assist in end user testing. Including IT architecture resources such as applications, systems and equipment allows for identifying impactful relationships and planning how IT can best support the business.
Impact and Gap Analysis - see the impacts of SAP and identify opportunities for automation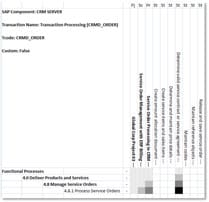 Report on the effect of transactions, processes and SAP systems on operational processes and organizational groups or individuals. Understand how people and processes impact operations and relationships with external groups such as suppliers and customers. Including IT architecture resources such as applications, systems and equipment allows for identifying impactful relationships and planning how SAP expansion can best support the business.
Synchronization management - manage data exchange with SAP® Solution Manager blueprint projects.
Bi-directional synchronization with SAP Solution Manager ensures that business users are up to date with most recent SAP project planning, and process users can access one central point for SAP project documentation.