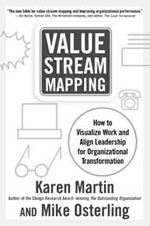 Here at iGrafx, we take great care with the books we choose to promote (as evident by our short list here). We can't pass up on a good read – especially when it focuses on aligning leadership in an organization so the highest possible value can be provided to customers. We see it all over the place – too many organizations fall into that same silo-centric behavior which brings about big time conflict. While this seems like a no brainer to address, most organizations don't understand that this very thing is holding them back from achieving truly outstanding performance.
Truth is, value stream mapping is an essential but underused methodology. It's a proven approach that helps you visualize and resolve disconnects, redundancies, and gaps in your value delivery system. More than merely a tool to eliminate operational waste, value stream mapping is a highly effective means of transforming leadership thinking, defining strategy and priorities, and creating a customer-centric work flow. What's not to love?
Read Value Stream Mapping and learn how to:
Prepare and engage your leadership team in the transformation process
Gain a deep understanding about your current work systems and the related barriers to delivering value
Design a future state that enables outstanding performance on all fronts
Adopt the new design and lay the foundation for continued improvement
Whether you're a novice, an experienced improvement practitioner, or a leader, Value Stream Mapping will help you design and operate your business more effectively. And if your organization already uses value stream mapping, this book will help you improve your transformation efforts.
Check It Out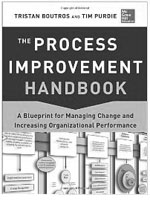 If you're looking for a definitive guide to Process Improvement and Operational Excellence, this is it. Who wouldn't want an all-encompassing body of knowledge that'll help improve their operating environment? No one, that's who. Whether you're learning the basics of Process Improvement, planning your first improvement project, or preaching process oriented thinking throughout your organization, process professionals across the board can expect a horse-sized dosage of aid.
We're all about Process Excellence here at iGrafx, and this book has the chops to help you enable process excellence from start to finish. See how to save time, conserve resources, and accomplish more in a competitive timeframe. With practical insights throughout, this book will assist you in becoming effective in any Process Improvement role: from contributor, stakeholder, executive, team member, department, business division, supplier, and customer.
Check It Out