Communicate business processes clearly, completely and efficiently
Visualizing is one of the most important factors in understanding. By modeling your processes in a visual way, you are increasing the potential for success that your organization will understand their processes and have a foundation for analyzing and improving them and effectively communicating change to all that are affected.
iGrafx helps companies bridge communication gaps and deploy processes faster with easy to use process modeling solutions. iGrafx supports the most widely used process modeling styles and notations, from basic processes flowcharts and cross-functional Swimlane diagrams to powerful standards like BPMN or specialty modeling methods like IDEF0. And iGrafx is the only solution to provide the ability to fully describe business processes through their connection to other vital aspects of the enterprise (e.g. Business Model, Strategy Model, Value Model and Performance Model) and enterprise architecture (e.g. Business Architecture, Information Systems Architecture and Technology Architecture).
Simple, Visual Communication of Complex Models
iGrafx process models are much more than connected activities on a page. iGrafx models include visual indicators that communicate relationships to other aspects of the enterprise: how work products are input and output from activities; what is manual and what is automated; how processes are supported by human or system resources; if there are controls or measurements in place, and much more.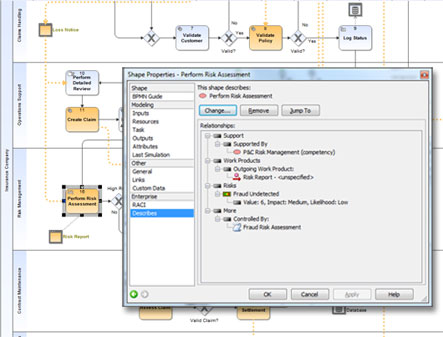 Intelligent Diagramming – Maximize modeling productivity and minimize errors
iGrafx users easily create process models using an intuitive interface that automatically manages many of the drawing tasks. Time-savers like placing shapes quickly, re-using model objects in diagrams and drag and drop sub-processes help capture processes quickly all while ensuring consistency.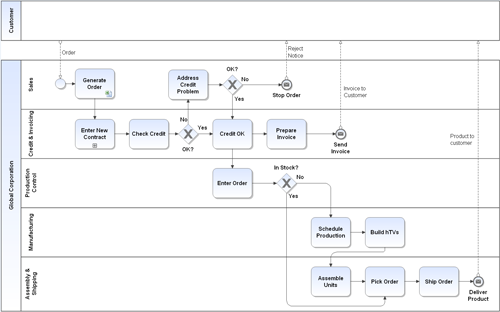 BPMN - A Standard for Communicating Processes
Customized BPMN palettes, automatic pools and intelligent formatting makes iGrafx the most efficient tool for creating and modifying even the most complex BPMN diagram.
iGrafx provides full support for key BPMN components including flow objects, connecting objects, swimlanes, pools and artifacts.
Correct by construction design reduces model development time and ensures accurate BPMN diagrams.
Easily convert existing swimlane® process maps into BPMN format for time-to-deployment advantage. Add further detail to define the interactions with messages and partners for export to XPDL or XML.
Simulate BPMN models to ensure that your models are optimized prior to deployment in an execution environment.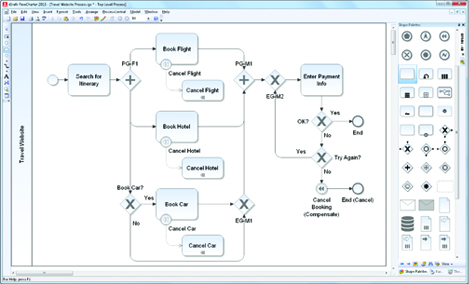 eXtended BPMN – Enhancing the Standard for Business Understanding
BPMN 2.0 is an excellent notation to clearly communicating business requirements for process automation. But to truly describe how the business works, BPMN 2.0 can be extended to include modeling constructs that communicate actual business behavior. eXtended BPMN (X-BPMN), developed by LEADing Practice and supported by iGrafx modeling solutions, is the means to relate process models to other vital aspects of enterprise modeling (e.g. Business Modeling, Strategy Modeling, Value Modeling and Performance Management) and enterprise architecture (e.g. Business Architecture, Information Systems Architecture and Technology Architecture).
Models created in X-BPMN provide these advantages:
Facilitate the specification of business concepts like manual Services and automated Tasks, which are necessary for conducting meaningful process simulation and break point analysis
Provide constructs that allow the modeling of Business, Data and Information Objects, and visualization of information flow, service flows, reporting flows, and rule flows
Highlight duplication of business functions, processes, services, information/data, measurements, and reporting
Identify advanced process measurement points in terms of Key Performance Indicators (KPIs), Process Performance Indicators (PPIs), and Service Performance Indicators (SPIs)
Link business strategies, business competencies, resources, and measurements to processes and their activities
Support Business Rules modeling and decision making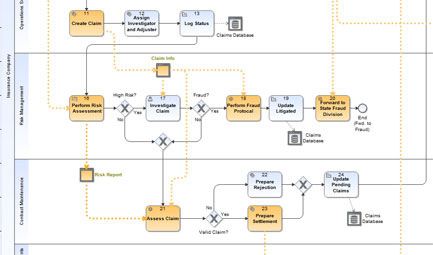 Process Modeling Products: