Get Compliant and Stay Compliant with iGrafx
iGrafx GDPR Suite: turn compliance into a competitive advantage.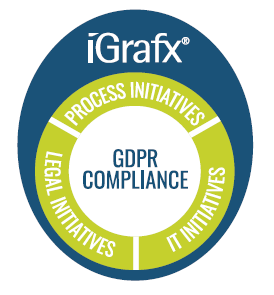 What is GDPR?
The General Data Protection Regulation (GDPR) went into effect in May 2018, providing new compliance regulations for all companies that do business within the European Union, or handle the data of its citizens.
iGrafx provides a platform loaded with the regulatory elements associated with this regulation, ensuring you have the means to assess risk, model your data flows, identify gaps, and implement audit controls to help you obtain and maintain GDPR compliance now and in the future. Some highlights include:
A solution for all GDPR Stakeholders: Legal, IT and Process
Legislation-specific reference content
GDPR Survey tools to assess risk areas
Process Templates to expedite documentation and automation
Complete visibility and control via Data Flow Modeling
Not a "one and done" solution
Need to know more about GDPR, who it impacts and how to prepare?