Get Compliant and Stay Compliant with iGrafx
iGrafx GDPR Suite: turn compliance into a competitive advantage.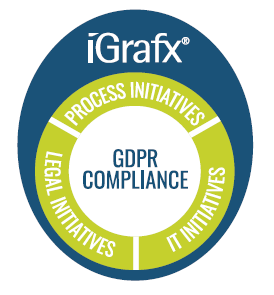 What is GDPR?
The General Data Protection Regulation (GDPR) goes into effect May 25, 2018. This new regulation will dramatically change to the way data must be handled and processed in the European Union.
iGrafx provides the intellectual property of knowing the regulatory elements of GDPR, the means to assess risk from the process perspective, and the system to document operations, model data flow, audit controls, implement GDPR required processes, all in order to help achieve GDPR compliance now and, most importantly, maintain it into the future. Some highlights include:
A solution for all GDPR Stakeholders: Legal, IT and Process
Legislation-specific reference content
GDPR Survey tools to assess risk areas
Process Templates to expedite documentation and automation
Complete visibility and control via Data Flow Modeling
Not a "one and done" solution
Need to know more about GDPR, who it impacts and how to prepare?